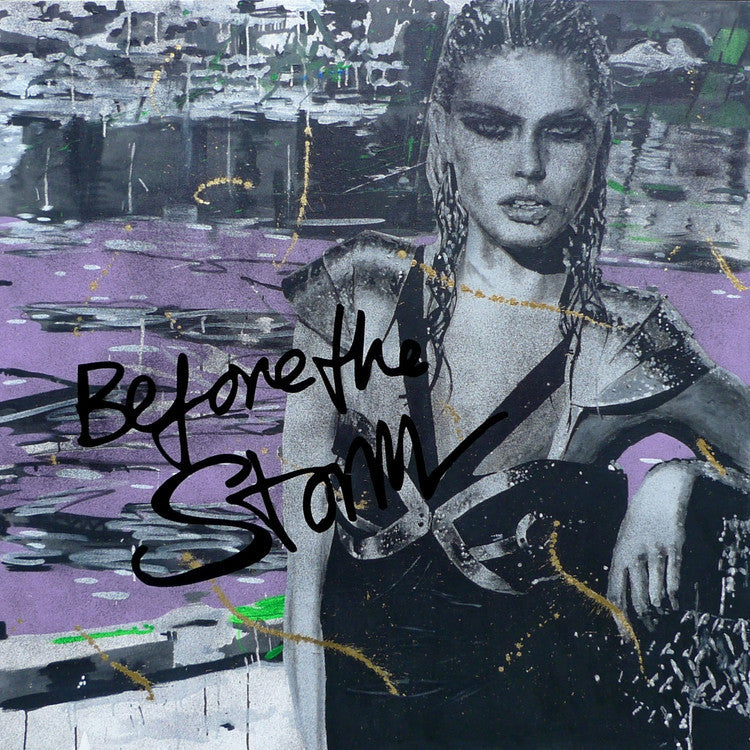 Before The Storm - Stuart Semple
Before the Storm' is an original and unique artwork by artist Stuart Semple.
Original Artwork
Acrylic, charcoal, chalk, glitter, vinyl and gold on canvas
About the Artist
Born in Dorset in 1980, Stuart Semple became an artist after a traumatic near death experience at the age of 19 whilst studying Fine Art at Breton Hall in the Yorkshire Sculpture Park.

Since, Semple has enjoyed a successful artistic career spanning 13 years with over 15 international solo exhibitions, 40 group shows and major public art projects alongside numerous art fairs and biennials.

Between 1999 and 2002, during his recovery and as a form of catharsis, he created nearly 3000 works of art which he sold via eBay, gaining him the offer for his first solo exhibition in 2001 at London's A&D gallery.

In 2004 a chance encounter with art dealer Anthony d'Offay led to Semple setting up a studio in London's East End. Soon after he became a favourite of celebrities such as Debbie Harry, Sienna Miller, Uri Geller & Noel Gallagher who acquired works.

However, it was the solo exhibition 'Epiphany' at Martin Summers Fine Art in 2006 which cemented Semple's reputation in the art world with notable sales to The Getty, David Roberts, Niarchos and Langen Foundations. Subsequently Semple went on to hold critically and commercially successful solo shows in New York, Italy and Hong Kong.

His works have also been included in significant international group exhibitions and charity projects at galleries worldwide including the ICA, Victoria Miro, The Goss-Michael Foundation, Sotheby's, Sammlung Fide, The Fine Art Society and the Museum of Art and Design, NYC.
Details
Acrylic, charcoal, chalk, glitter, vinyl and gold on canvas
Size: 120cm x 120cm