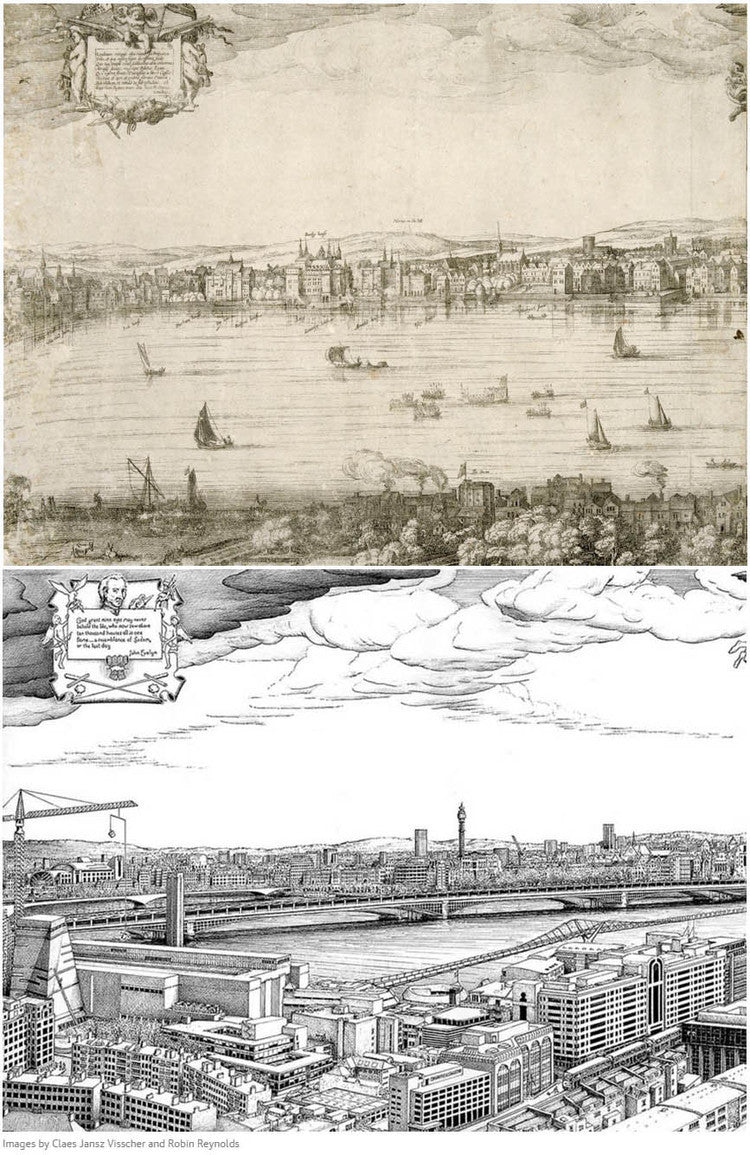 London Redrawn - Robin Reynolds
Artist: Robin Reyolds
Print Type: Standard / Choice of Limited Edition
Sizes:
- 161cm x 36cm including border Standard Print
- 201cm x 44cm (80% size) including border Limited Edition of 400 giclee prints with booklet
- 252cm x 55cm including border Limited Edition of 400 giclee prints with booklet
Description: 
"I am pleased – and indeed relieved – to report that after nearly two years' work, it's done. I put the finishing touches to my view of modern London, arranged to fit Visscher's fantasy landscape, shortly after Christmas, and I'm thrilled that it will be on display at London's Guildhall Art Gallery from February 20 through to November 20 2016.
The aim was in part to celebrate an iconic image of old London, but it was also an opportunity to share in the fun of Shakespeare 400 – which is of course one of our major cultural landmarks in 2016. Accordingly, I included, in the streets and among the celestial decorations, visual references to Shakespeare's most famous works – 37 plays, three poems and the sonnets. The result has prompted the City of London to adopt the work as an element in its Shakespeare 400 programme, and visitors to the Guildhall Art Gallery will be challenged to find all 41 references."
Robin Reynolds
Robin Reynolds spent most of his working life in journalism and business communications in the United Kingdom. Latterly he was responsible for the BBC's art and history collections.
Initially he pursued drawing in spare time between work and family commitments. But since 2010 he has been developing stories in pictures full-time, along a number of themes – notably fantasy townscapes and disasters.
Size:
252 x 55cm (with booklet)