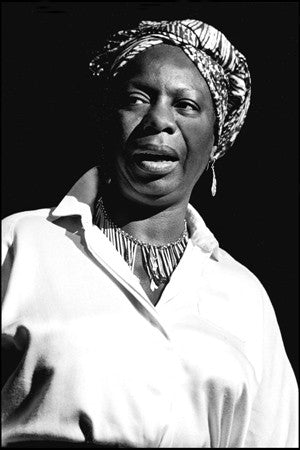 Nina Simone - Royal Albert Hall 1998
Available Sizes
11" x 14" (Edition of 500 - Signed)
12" x 16" (Edition of 100 - Signed)

Print: Digital Lamda Archival Quality Photographic print
Description from Stephen: "I had listened and loved Nina Simone's singing for 15 years before I finally got to see her sing to a spellbound audience of 3000 or so at the Royal Albert Hall. Enigmatic proud and elegant with an evening I'll never forget."

About Stephen Wright
When Stephen Wright started out as a photographer it was the early 1980s and everything was happening in Manchester; the city he described as one of "rain, sex and rock and roll". During his time in the city, Wright frequented the fabled Hacienda nightclub and Manchester Apollo before eventually moving back south to start working on shows in London. Over the years he had the opportunity to work on a long list of artists including Nina Simone, James Brown and New Order, but it is arguably his photographs of The Smiths which have the biggest legacy.
In his images, Stephen captures moments in The Smiths' live shows – the first of which was at the Free Trade Hall. This show, described by Stephen as "truly magnificent', produced the famous 'Bum and Flowers' image amongst others and, a year or so later, he was asked to do the now iconic 'The Queen is Dead' shoot.